Flight Simulator
A few pictures of a home flight simulator that I am assembling, making final approach into SFO near sunset.
The system is based on an Intel I5-3750k (Ivy Bridge, Quad Core, made on 22nm Process) over clocked to
4Ghz running x-Plane 10.2x across 3 x 27 inch monitors with a few Saitek controllers and instrument panel
displays. The controllers include yoke, rudder pedals, throttle quadrant, communications and auto pilot.
The three instrument panels can each be configured to display one of nine functions. Below they are configured
with airspeed, HSI, and altimeter. With a GTX 780 nVidia graphics card, the system maintains 30 -70 FPS with
many settings at high level of detail. X-Plane and its associated components utilize multiple cores spreading
the workload across Intel's quad core processor.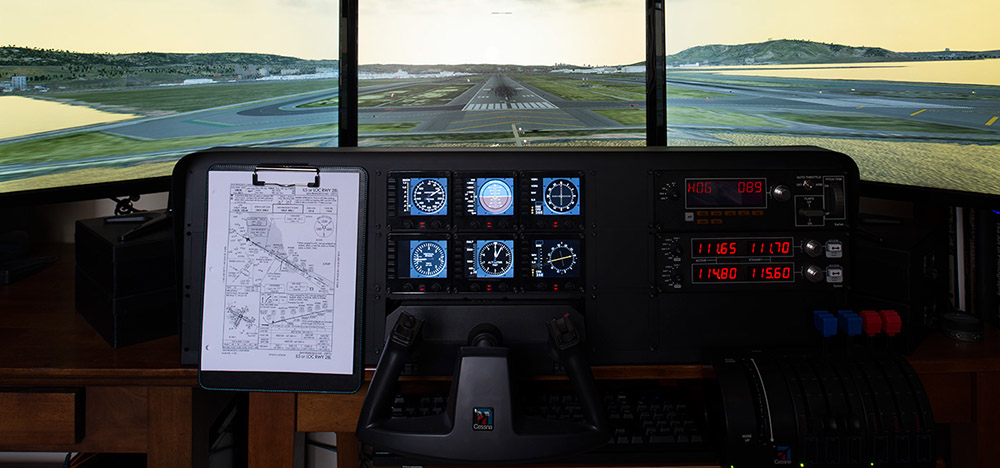 Approaching SFO, San Francisco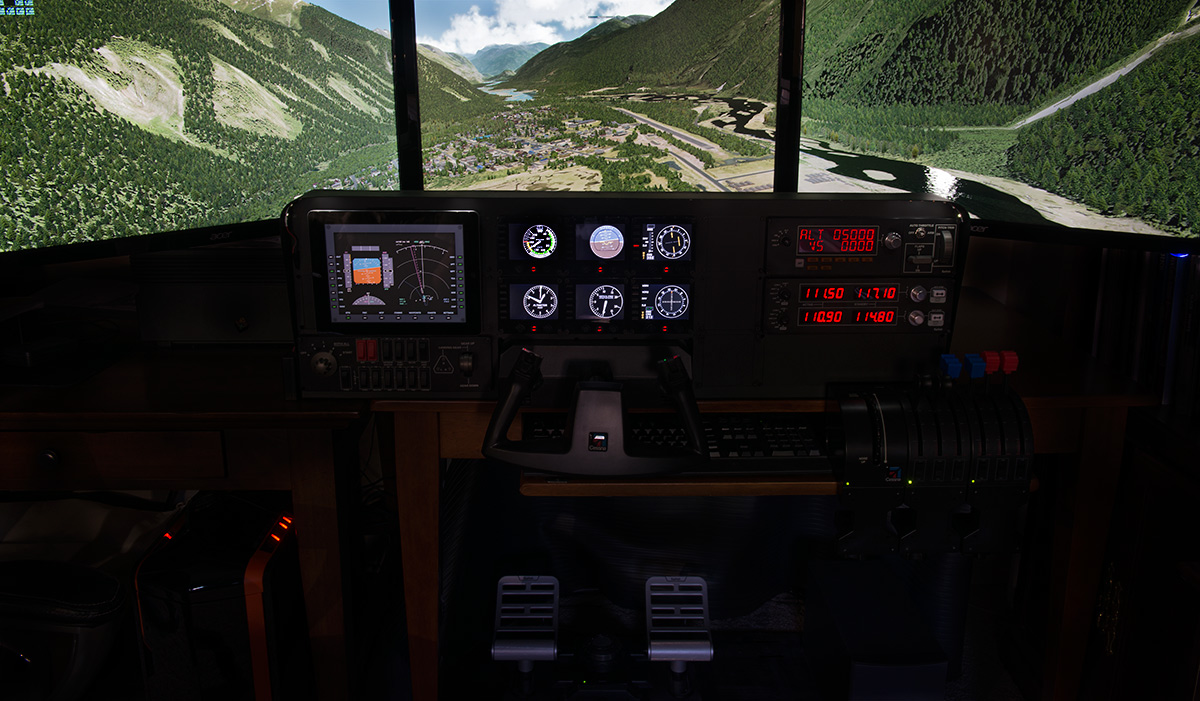 Flying over Stewart, British Columbia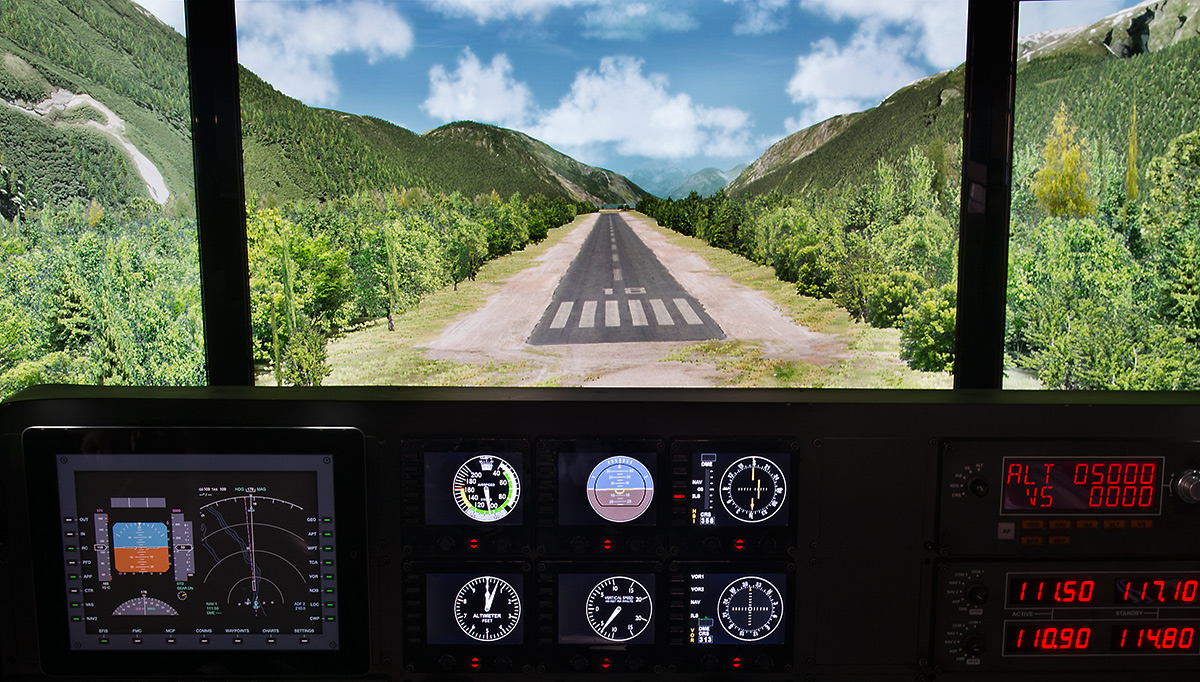 Final on Stewart, British Columbia
Approaching Queenstown, New Zealand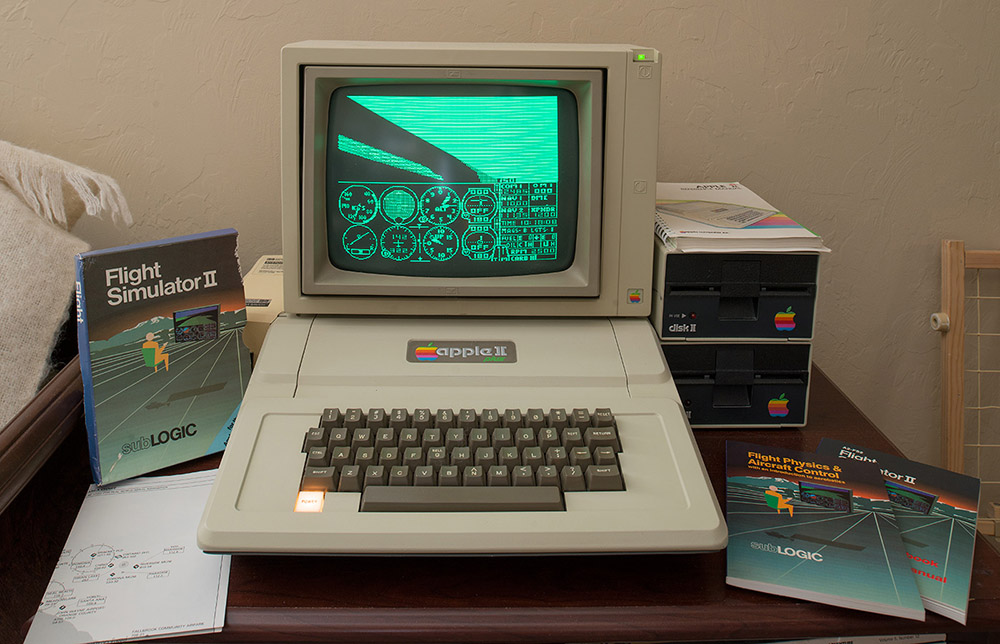 ... And for comparison, a 1979 era Apple II+ running subLogic's Flight Simulator.
| Attribute | 2014 PC | 1979 Apple II+ | Factor |
| --- | --- | --- | --- |
| RAM (excluding cache) | 8GB + 3GB VRAM | 64K | 156,250x |
| CPU + GPU Cores | 4 + 2304 GPU cores | 1 | 4x (CPU only) |
| CPU Speed | Up to 4Ghz | 1Mhz | 4,000x |
| Display Resolution | 5960 x 1080 | 320 x 192 | 104x more pixels |
| Application Size | ~50GB x 8 DVDs | 140Kb Floppy | 357,143x |
| Frames per second performance | 30-70 | 1 | 30-70x |
| Colors | Millions | 2 | Millions x |
| Boot Time to flight readiness | ~1 Minute | ~30 seconds | 0.5x (Apple II wins!) |